HIGH QUALITY STEAKS, DRY AGED FOR 7 WEEKS

IN OUR OWN DRY-AGING CABINET.

In 2010 in KOGO we started offering steaks with the classification of USDA Prime which are still very popular. Yet we wanted a real steakhouse and spent several years searching and enjoying tasty steaks. The best of what we found is in our kingdom of steaks – D.STEAKHOUSE.

Meat quality
Meat quality is affected by its origin: race, nutrition, care and age.
Types of steaks
Different types of steaks give different taste experience.
Dry-aging
Dry-aging improves the flavor and tenderness of the meat
JOSPER® Charcoal grill
JOSPER® charcoal grill bakes exceptional steaks.
Wine and service
The steak includes great wine and quality service.


How lucky to have an appetite if we hope for a good lunch!

Except for steaks from the 5 different types of meat home-made hand-cut tartars from several sorts of meat to be compared, interesting salads and side-dishes are also offered. We are especially proud of our D.Steakhouse burger prepared from 3 types of meat and 4 types of cheese served in our home-made bun.

= more than 300 types of wine =
We love wine and that is why we travel with our sommeliers Peter and Jaro around the world in search of the best wines from renowned vineyards and small interesting producers alike. Unsurprisingly, the focus is on wines that fit the steaks best. You will find our recommendation further in the wine list.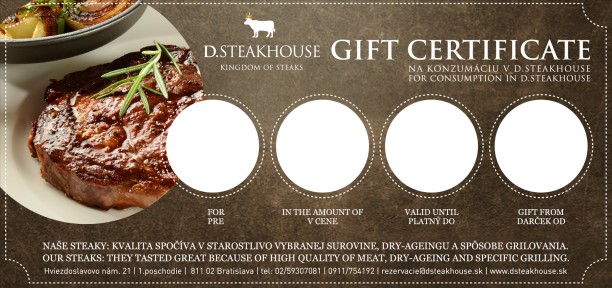 Delight your acquaintances with a gift voucher in the value of your choice.